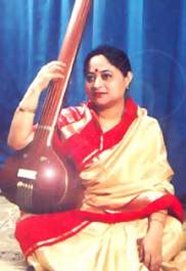 Our teacher for online vocal music lessons, is Rakhi Banerjee. Rakhi teaches khyAl, thumri, ghazal, Bengali Folk songs, nazrulgitI, and rabindrasangIt. She welcomes all levels of vocal students.
Indian Music Lessons is a proud pioneer in online music lessons. We have been offering online lessons since 2002. Indian Music Lessons has successfully trained different levels of online vocal music students. Most vocal students have been beginners, but a significant number are more advanced. All are enjoying their music lessons and steadily growing as musicians.
Indian Music Lessons delivers tailor-made vocal music lessons to suit each student's individual needs. IML teaches using traditional Indian methods, combined with modern computer and Internet technology.
About Online Vocal Music Lessons
See, hear, and talk with a teacher in real-time Internet lessons. Meet face to face, ask questions, watch your teacher demonstrate and explain, and then get personal help learning – just like in a traditional private music lesson. The only difference is that, it all happens directly on your computer
In general, to have an online lesson, the student must have a PC, Mac, or tablet, with Internet connection. Lessons are conducted via Skype or FaceTime, so a webcam is required.

Our students say the camera works better than in-person demonstrations. Further, because your instructor can control what she wants you to see, with greater focus, the online, real time video is often easier to watch than an in-person session.
Altogether, online lessons work exceptionally well.
Certainly, there are no trade-offs in terms of educational quality or personal human interaction. So, video conferenced lessons are just as personal, just as lively, and just as effective as being there in person. Also, online lessons offer many benefits. Firstly, students save time. There is no need to travel to the lesson. Secondly, students save money. There is no need to pay for transportation expenses.

Save Time and Money – Get a Better Learning Experience!
About Rakhi Banerjee
Rakhi Banerjee sang her first full song when she was a baby of 30 months… the music just came out of her, as a pure natural phenomenon.
Today, you can hear her singing any variety of song, starting from a classical Malkauns-bandish "Aaja more ghar–" , to neo-classical and modern songs.

She was born in Kolkata, India and received her Master of Arts degree in Music [Hindustani Vocal Music] in 1986, from Khairagarh University.

Rakhi was awarded Senior Fellowship by the Department of Culture, Ministry of Human Resources Development, Government of India, for her research project on Hindustani Neo-Classical Vocal Styles.

She has successfully delivered online vocal music lessons in Classical, Light Classical, and Popular styles. Her student's progress has been impressive… easily comparable with traditional studio training.
Rakhi has trained many students from different parts of India, Europe, and America. Some of Rakhi's students have taken lessons for as long as a decade. Many have given public concerts, in social gatherings. They were very happy with their lessons in vocal music.
Testimonials
Here is what one student had to say,
"I have managed to practice every day. I like doing the exercises now, and want to keep going…. She also tells me if I've improved and that is also doing me good. After I have a session I feel very happy… the whole day, I'm humming… and I also like my teacher."
S. D. Bhagwandin from the Netherlands
We received an email from Ms. Rujuta Dhawedkar, a resident of the USA, telling us,
"Rakhi Banerjee, (aunty) is not only a wonderful teacher but also a great person. We all know her accomplishments but I will like to share what I learnt from her. She has ability to connect to her students no matter what age they are. She is punctual for the online classes, and I must appreciate that she has learnt all new technology to stay up to date with the world. Running classes online from India is a challenge and she has overcome all of it. I come from a family who is into Music so I was a beginner but not completely new to learn Hindustani classical music."