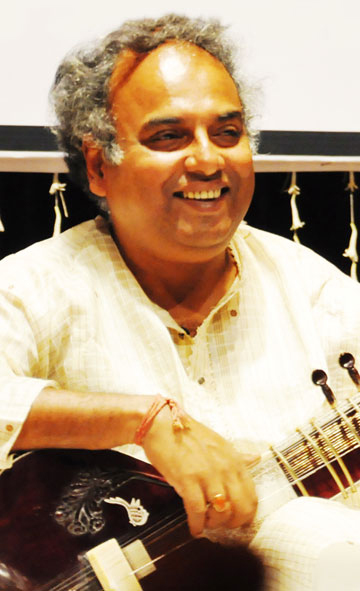 Sanjoy Bandopadhyay welcomes you to Indian Music Lessons, the pioneer in online learning!
Welcome!
Indian Music Lessons offers online instruction in sitar, sarod, flute (bansuri) and vocal music. Comparatively, online lessons work the same way as being in the studio with your instructor. During a lesson, you see, hear, and talk with your teacher in real time.
As a matter of fact, for students of all ages and skill levels, the online method has proven to be the best way to learn Indian music. Additionally, it is more convenient and economical, because students do not have to travel to the lesson, or pay for transportation expenses.


Since ancient times, the traditional Guru-Shishya Parampara style of teaching is to have a close, direct relationship between the teacher and the student. Because Indian Music Lessons combines modern and ancient methods, IML students advance rapidly and enjoy learning. Above all, they do so from the comfort of home!
IML offers instrumental music training for any level, from starters to very advanced students; and all levels vocal music training for various styles. That, as well as the fact that our teachers, or Gurus, are established, professional musicians, makes Indian Music Lessons the best choice for your online Indian Music studies.
Sooner or later, some students desire to meet their teacher, in person. That is highly recommended. During the Kolkata visits, the students will receive the opportunity to go through long hours of guided practicing, or 'riyaz' .
Also importantly, they will receive training sitting close to their teachers. This is known as 'seena baseena taalim'.
Above all, the Kolkata environment works as a catalyst for overall musical growth.
What students say…
Here are some video bites of the students that will help to better understand the effectiveness of IML.
"Initially I was hesitant about learning the sitar in Real Time mode over the Internet. My concerns were to do with things like latency, Internet reliability, time zone differences, etc. However, …I realised these were minor issues, especially when compared to the expertise and skills Professor Sanjoy Bandopadhyay has to offer. It is completely my pleasure to be a student of IML!"

Markus J. Weininger, Universidade Federal de Santa Catarina, Brazil