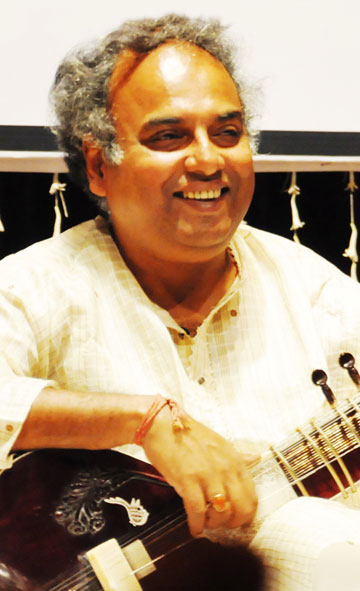 Pandit Sanjoy Bandopadhyay, the renowned sitar player, is the Chair Professor, Ustad Allauddin Khan Chair of Instrumental Music at the Rabindra Bharati University, Kolkata [India]. He is also the Director of S.M. Tagore Center for Documentation & Research in Languishing & Obsolescent Musical Instruments [SMTC-DRLOMI]. Recently he has taken up an added responsibility as the Chief-Coordinator of a research project on 'Indian Classical Music Mapping of Kolkata' sponsored by the University Grants Commission, New Delhi under the SAP-DRS.
After his initial training from his father Shri Peeyush Prasanna Bandopadhyay Professor Bandopadhyay had training under the guidance of the doyens of music like Pt. Radhika Mohan Maitra and Pt. Bimalendu Mukherjee. He also had training from Pt. Manas Chakravarty, Pt. Ajay Sinha Roy and Dr. M.R. Gautam. He also had the opportunity to receive brief guidance from the famous Pt. Gajananrao Joshi.
Sanjoy is a Top Grade artist of All India Radio, and has several CDs to his credit. The CDs were published by the well-known companies like RPG-HMV, India; India Archive Music Limited, New York, USA and others. He has performed in many major music festivals in India, USA, Canada, European countries and South Africa. His sitar recitals featured several times in the National Program of All India Radio [India's National Radio Channel] and Doordarshan [India's National Television Channel].

Sanjoy also produced a number of highly reputed and internationally acclaimed musicians. Most prominent names among his students is Sri Kushal Das [sitar]. Other notable names are Rajrupa Chowdhury, the brilliant sarod player, the 14 year old sitar-magic Sri Ayush Ghosh, the brilliant rising star Sri Kalyanjit Das [sitar], the notable lady young sarod artist Ms. Troilee Dutta [sarod] and others.
Professor Bandopadhyay served many prestigious academic assignments internationally. These include his visits at the University of Illinois at Urbana Champaign [USA] as 'George A. Miller Visiting Professor', at the University of Alberta [Canada] as 'Distinguished India Focus Visitor' or 'Artist in Residence' in several universities including the University of Chicago [USA] and University of Colorado at Colorado Springs [USA]. He has featured in Plenary Sessions in global conferences like the UNESCO Conference in Finland and the International Conference arranged by the German Musicological Society, also in another International Conference organized by the University of Amsterdam. He participated in Indo-Canada bi-lateral conference, 'Emerging India', arranged by the University of Saskatchewan, Canada. He is serving as expert member and member of advisory bodies for several universities in India. He also served as an external expert for some projects of the University of Chicago [USA] and Staatliche Museen zu Berlin [Germany].
Here is a video by Jon Barlow. In this video, Professor Sanjoy Bandopadhyay talked about his grooming in music.