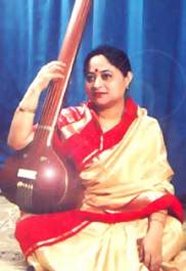 Rakhi Banerjee sang her first full song when she was a baby of 30 months… the music just came out of her, as a pure natural phenomenon.
Today, you can hear her singing any variety of song, starting from a classical Malkauns-bandish "Aaja more ghar–" , to neo-classical and modern songs.
She was born in Kolkata [India] on October 10 1955.  She received her MA [Hindustani Vocal Music] in 1986, from Khairagarh University.  Rakhi was awarded Senior Fellowship by the Department of Culture, Ministry of Human Resource Development, Government of India, for her research project on Hindustani neo-classical vocal styles.
She obtained training in Hindustani Music [khyal], in traditional system under the guidance of Late Sukhendu Goswami.  Rakhi had the opportunity to learn Dhrupad under the guidance of Pt. Abhay Narayan Mallick [Darbhanga school] and thumri from Pt. Govardhan Mishra [Gaya], during her long Khairagarh stay. Later after her return to her home-city Kolkata in 2001 she took the opportunity to learn with the legendary thumri singer Vidushi Purnima Chaudhury.

Smt. Purabi Dutta affectionately trained her in Nazrulgeeti [a variety of Bengali song] and her maternal aunt, Jayanti Roy, taught her Bengali Folk song.  She also delineates Rabindrasangeet and modern songs with ease, because of her exceptional natural aptitude.
Rakhi served as a Guest Faculty member, teaching Graduate courses in Vocal Music during 1995 and 1996, at the Indira Kala Sangit Vishwavidyalaya, Khairagarh, India… the only university in India devoted to the exclusive teaching of Music Performing and Visual Arts.  Currently, Rakhi is staying in Kolkata and is busy with different art activities.
She has started teaching Hindustani vocal music, directly on the Internet.