This page contains links to web sites and free software that may be interesting and useful to music students.
AP Tuner  – A great free software tuner!  This one works better than most hardware tuners that you buy at a music store.   It's shareware, but it's not disabled in any way.  Excellent for tuning sitars, tablas and as a pitch pipe for voice.
BestPractice – A great little practice tool that lets you slow down, loop, and change the pitch of any wave file or CD recording.  It's perfect for trying to figure out parts to music that are simply are too quick to hear at normal speed – especially fast instrumental solos.  It's also great for practicing parts that you're learning – playing along with original recordings at slow speeds to get parts learned can really help the learning process.  It's also useful when the original recording is not at correct pitch – especially in music where the sitar is tuned up or down a half step.  With best practice, you don't have to retune your instrument to play along!  It also removes vocals from recordings so that you can hear the instrumental parts better.  It's completely free 🙂
Audacity – Audacity is free, open source software for recording and editing sounds.  It does multi track recording, and it's great for putting parts together because you can edit the sounds visually.  You can also use it to slow down and change the pitch of recordings, so that they're easier to learn.  It's one of the best learning tools available, and it's powerful enough to create commercial recordings – even full length albums.  It's a very small download, and it runs on virtually any computer platform.
Some more interesting links…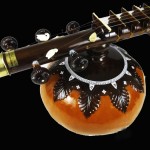 Gary's Rudraveena site –Gary Pro, who is the primary architect for building up Indian Music Lessons has built a portal on Rudra Veena.  This site has lots of information on this ancient instrument and is very elaborately done.
Rajan Parrikar's Music Archive – Rajan P. Parrikar built up a good Hindusthani Music archive with his personal efforts. This archive is a good resource for Indian music students and can answer to many common raga related questions. Have a look.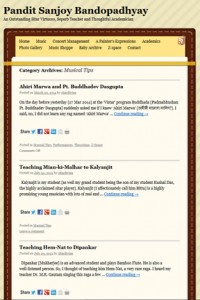 Fun reading: scribbles by Pt. Sanjoy Bandopadhyay
Pt. Sanjoy Bandopadhyay's scribbles on music teaching and performances. Take it when you have enough free time.