IndianMusicLessons.com: The Pioneer in Online Teaching of Indian Music
Sanjoy Bandopadhyay
It was 2001 when I returned to Kolkata after 20 years at the Khairagarh University. At that time I had very little experience in computer applications. I could gather some experience through my efforts on initiation of 'Computer Music Program' at the Khairagarh University. At that time I primarily worked in collaboration with Dr. Bernard Bel, French National Centre for Scientific Research [CNRS] and Prof. H.V. Sahasrabuddhe of University of Pune. I must also mention my interactions with Matti Ruippo, currently working at the Tempere University of Applied Sciences [TAMK], Finland, during the International Conference on 'Distance Education in Indian Music: Feasibility and prospects' at Bharat Bhavan, Bhopal during 1999 and later. [With the insistence of Pt. Om PrakashChaurasiya I worked as a key person for this conference in terms of concept building and conducting all the sessions!]
After I came to Kolkata I was very happy to discover that the Internet is working at a much higher speed. I used to work at Khairagarh at 2 kbps download speed ! This was unbelievably slow considering today's high speed Internet. During 2001 in Kolkata also Internet was far less popular; the cyber cafes were gradually coming up.
I had a long discussion with my 13 year old son. A person who did not have much understanding about computers and Internet excepting that he loved computer games! But I wanted someone to talk and he was easy to grab. My son advised that I should try Internet Music Teaching! So, sat down on my PC and created my first website in MS Word and published under free web hosting site Angelfire.

Among my first group of students to respond was Mr. Gary Pro of Seattle, USA. Gary was a computer scientist and exceptionally good human being. After a few months interactions Gary found that the system was working for him. He offered to help me to bring up a full website and he gave the name 'Indian Music Lessons'. Gary spent many hours to build the site, tried many options, tried to offer many facilities for video conferencing. Unfortunately, the available Calcutta Internet bandwidth was too slow to handle all of them. So finally he presented a simpler site.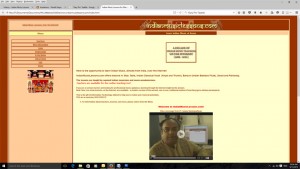 Dr. Matti suggested me to use 'Eyeball' for video conferencing. Eyeball could work even at lower Internet speed. So, we used Eyeball Chat for the first few years.

Later we shifted to Skype and of late we are also working through Face Time for Mac users.
During this long journey through history since 2002, the year when Indian Music Lessons started to work formally as a pioneer of online music teaching in Indian Classical Music, we had many students. Many of them learned the art and finally became good performers. You may  love listening to the IML students' perforomances through the links at the left sidebar. Some of these students did not perform in public concerts but were happy with the knowledge and enjoying the bliss of music. We are glad that the concept worked.
13 September, 2015, Kolkata