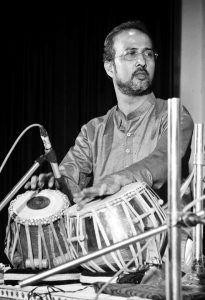 Pandit Parimal Chakrabarty is one of the leading Tabla players in India today. He has been awarded the prestigious 'Top Grade' by the All India Radio, India's prime radio channel.
Performances
Pt. Parimal performed in almost all the major music festivals in India. He also performed in Germany, France, Switzerland, Poland, Sweden, England, Spain, Italy, North America, Netherlands, Oman, Doha, Abu Dhabi, Syria, Lebanon, and Bangladesh.
He provided tabla support to a large number of internationally renowned musicians including the Grammy winner slide guitarist Pt. Viswa Mohan Bhatt,  the phenomenal sarangi player and vocalist Ustad Sultan Khan, Pt. Sanjoy Bandopadhyay, the exemplary academician and sitar player,  and others. He performed at the World Music Festival in France in 2006.
Pandit Parimal performed in more than seventy National Programmes of Music in the All India Radio and Doordarshan [India's prime television channel].
Discography
He has several CD's and Cassettes to his credit. These were released by HMV, Times Music, T-Series, Bihaan Music, and other record labels.
Film Associations
Under the Music Direction of U. Vidyasagar, Parimal worked with two famous singers Hariharan and Yesudas for a Malayalam Film. He also worked for two Bengali Films Ramdhanu and Aro Ekbar.
Music Grooming
Parimal had the opportunity to learn with the tabla-legend Pandit Shankar Ghosh for four decades. Earlier he learnt with his father Sri Nikhil Chandra Chakrabarty and with Sri Ram Dhrube. He also had the rare opportunity to learn with the grand-Guru Pandit Jnan Prakash Ghosh on receiving a special scholarship from the West Bengal State Academy of Music. In 1989 he stood first in the All India Radio Competition under countrywide talent search and received the coveted President's Award.
University association
Pt. Parimal is currently associated with the Rabindra Bharati University, Kolkata in the Department of Instrumental Music as a Guest Lecturer.
Teaching contribution
Pt. Parimal is glad that some of his brilliant students are frequently showing up in the Indian classical Music scenario and leaving lingering impressions.