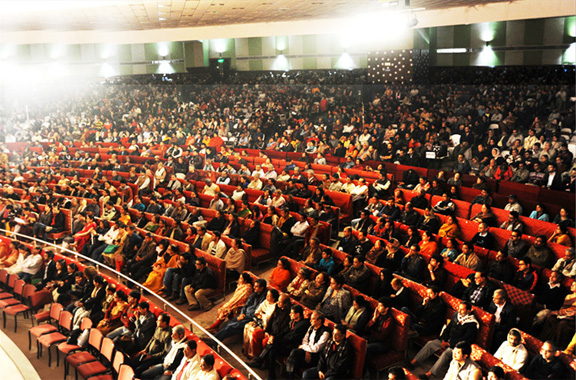 Kolkata is a culturally throbbing city. The city is known as the prime city that has been performing the role of prime-connoisseur of Hindusthani Music for hundreds of years! The city witnesses music festivals round the year. The musicians feel proud to get favorably assessed by the Kolkata listeners. The city has huge mass of highly educated critical listeners.
IndianMusicLessons.com is considering to present its students and alumni before the Kolkata listeners. IML is considering on arranging a good Music Festival in some well-known auditorium in Kolkata. This will help the performers to receive an assessment from the Kolkata music lovers. The musicians in India have been considering this as a good opportunity for many many years. The proverb is, if you get accepted in Kolkata your music will easily receive warm responses from the audiences of other places!
To play a concert an IML student or alumni should come to Kolkata and give at least 14 days preparation time devoting all available hours of day and night. The teachers here will work with them throughout this period for many hours a day! The participants will come to Kolkata around twenty days ahead of the concert date  to give enough time to get over jet-lag, etc. They will stay here in the city and vigorously work on the performance scheme.  The students will receive professionally done materials. They will practice long hours and prepare for the final show. All the IML students / alumni will receive strong teachers' support during this period.
The festival will also invite some well-known musicians and will engage professional tabla players for all the musicians.
When the participants reach Kolkata it will be expected that they will come with a three to five hour practicing habits. All the chosen perforomer students / alumni will receive practice tips three months before the concert. They will be briefed regarding their individual performance plans after discussions between the teacher and the student.
This write-up is the springboard for more discussions to give this idea a final shape. All the participants are expected to travel in Tourist Visa as the IML artists will not be paid for their performances and the whole exercise is to offer support for preparing them as concert-artists.
The participants will require to pay the workshop fees, food and lodging expenses [if arranged through IML] and their personal travels.
The IML students and alumni those wish to participate in the festival may contact ASAP. Participating in the 14-day workshop will be mandatory for all the IML musicians. Please complete the form below to inform your interest. Kindly add your performance video link [youtube video link] that will be viewed by the Artist Selection Committee.
Special note: 1. Musicians those are not related to IML may also apply. But, these people will also require to follow the same conditions as the IML students and alumni. That means, they will also join the two week workshop and bear their own expenses of travels, food and lodging. 2. Acceptance of a musician for the festival will be decided by the 'Artist Selection Committee' of the IML.
Sample time distribution
8:30 a.m. to 9 a.m. :Breakfast
9:00 a.m. to 11 a.m. : Practice for virtuosity enhancement
11 a.m. to 11:30 a.m. : Tea break
11:30 a.m. to 2:00 p.m. : Concert format practicing
2:00 p.m. to 3:00 p.m.: Lunch
3 p.m. to 6 p.m. : Free time
6 p.m. to 7 p.m.: Practice for virtuosity enhancement
7 p.m. to 10 p.m.: Concert format practicing
10 p.m. to 11 p.m.: Dinner
To bed 11 p.m. to 7:00 a.m.
On the days before the off days the musicians will go for night long practice after 11 p.m.  [11 p.m. to 3 a.m.]
—————————————————————-
Festival collaborators: