Online Music Lessons Directly from India
Here is the opportunity to have online Indian music lessons directly from India, over the Internet! IndianMusicLessons.com [IML] offers online lessons in Sitar, Sarod, Tabla, Indian Classical Vocal (Khyal / also spelt as 'Khayal' and Thumri), and Bansuri (Indian Bamboo Flute).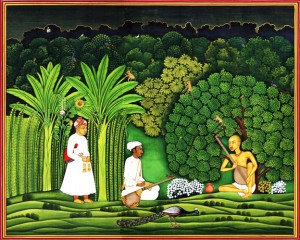 The lessons or classes are taught by highly able teachers and reputed musicians. IML have been  offering online  music lessons since 2002 and produced a good number of students those have become performing musicians! IML uses traditional teaching methods and  offers tailor-made learning materials to match individual student's needs.  IML follows the method adapted in one to one 'Guru-Shishya Parampara' system of training. This is giving very good results. IML students with the received guidance added with their own necessary practicing gave two types of results; 
(1) The keen beginners who joined IML developed  general performance abilities early, and
(2) The students those had general performance abilities and wanted to become concert-artists came out as performers and received warm acceptance  from the listeners.

For keen students those wish to come up as good performers IML suggests that they should visit Kolkata whenever they can and stay with their Gurus for sometime. During this period the students will go through long hours of guided practicing [riyaz] and will receive training sitting close to their teachers. This is known as 'seena baseena taalim'. IML found that this mix mode of teaching, that is online teaching mixed with some Seena-Baseena Taalim help the students to understand the art closely and the Kolkata ambience helps in this as a catalyst.
If you are a serious learner and looking for professional music guidance for sitar, sarod, vocal music, tabla, or flute, learning through Indian Music Lessons online is a good answer. Indian Music lessons is a modern version of the ancient, one-to-one, traditional method of teaching (guru-shishya parampara).
Indian Music lessons.com is preparing  musicians for concert challenges and creating new musicians. YOU are a musician, DISCOVER IT!
Welcome to IndianMusiclessons.com!
Play a short message from Pandit Sanjoy Bandopadhyay.

Click to read the verbatim of the message [Text].
Contact us:
Note: IML is currently NOT accepting students from India's neighboring countries. It is accepting 

intermediate and advanced students

 from different Indian cities. Click to know the details. 
Once again, the offered online Indian classical music lessons are as follows:
Sitar lessons online
Hindusthani Vocal Lessons online [Khyal and Thumri]
Tabla lessons online
Sarod lessons online
Indian Flute or Bansuri lessons online

If you are already initiated to Hindusthani music, you may like to view the video where Pt. Sanjoy Bandopadhyay talked on Music Pedagogy.  The brief sitar piece used in the video was taken from Sanjoyda's SMB Museum, Berlin concert. This video was recorded by Jon Barlow during 2003.
Note: One of the headers of this website used a series of Rajasthan's Ragamala Paintings of 16th-17th century.